"The E/K Display"
Finally, a stock-looking, integrated instrumentation solution for 1982-85 Eldorado and Seville owners who have swapped out their HT4100 and now have a defunct Fuel Data panel. Works with Diesels, too!

Features:
Oil Pressure 0-90 PSI

Engine Temperature 0-275F / Switchable to Celsius

Battery Voltage w/over-voltage alert

'Loss of Oil Pressure' Warning

Two Over-Temperature Alarms

Torque Converter Lockup Feature

3-Level Brightness Control or variable with Dash Dimmer
Compatible with all 1982-85 "MPG Sentinel" & "Fuel Data" Displays (Eldo, Seville, Fleetwood & Deville)

The processor board, no bigger than a deck of cards, plugs directly in to your existing Fuel Data display and installs easily under the dash with its included case. Coolant Temperature, Oil Pressure and System Voltage are displayed at the touch of a button, and a new laser-etched overlay with factory-style text is included. Should you want to be warned of loss of oil pressure, or an engine over-temp situation, a single connection to the factory warning chime is all that's required. You can even connect your Coolant Temp light.
For minimal wiring, 3-levels of display brightness are built-in, or connect to your headlight switch & rheostat and the digits will dim variably with your other displays. Brightness has been calibrated to track the factory brightness curve. And just like the other factory displays, the 6's and 9's retain their distinctive "tails".
A genuine problem after an engine swap is how to lock up the transmission torque converter.... The processor board also handles that! It prevents TCC engagement until the engine is warm and provides a delay after input conditions are met to prevent short cycling. Plus it works with the normally-closed 4th Gear Switch these cars use. Just add an aftermarket vacuum switch and you're set!
A built-in diagnostic menu lets you customize settings via the existing control buttons, and all circuitry is protected from jump start, reverse battery connection and other electronics-killing transients.
Each unit is hand assembled, programmed, tested, and includes a 12-month warranty. A laser-etched insert is included, just specify your year and model.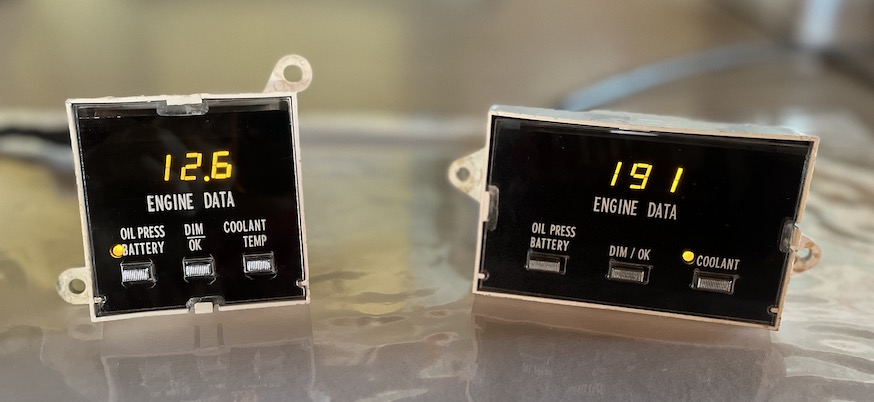 Laser Cut & Etched Panels also available for '82-'84 & RWD Models.
---
2023 Update:
Hardware and Software has been finalized and multiple units have been built and are undergoing testing to prove out durability and fine-tuning. Pricing and availability is on hold until I work through all laser and engraving options for the display insert. Stay Tuned for Updates!