Chances are, if you're wandering this site you're already fairly knowledgeable about the Eldo and Toro. Entire books have been written on the subject (have they?). If nothing else, there are some great links and ephemera below that all fans might find interesting.
As many know, the first modern production FWD automobile was the 1966 Oldsmobile Toronado. It was the perfect example of what General Motors could do when they went all-in. The car was a tour-de-force of tech and design, and on that front, was a massive success.

For those interested in the developmental details, I encourage you to check out the 1

st

Quarter 1966 General Motors Engineering Journal links, Vol 13.



Please Click Images at right to open PDFs.
The enduring innovation for the E-body was the Unitized Power Package, or UPP. Coupled with a torsion bar suspension and a unique half-shaft with damper, you had a big block Olds engine driving the front wheels without torque steer and with the reliability of a RWD vehicle. This UPP would continue in one form or another up through the end of the '85 model year when the '86's moved to a transverse setup with transaxle.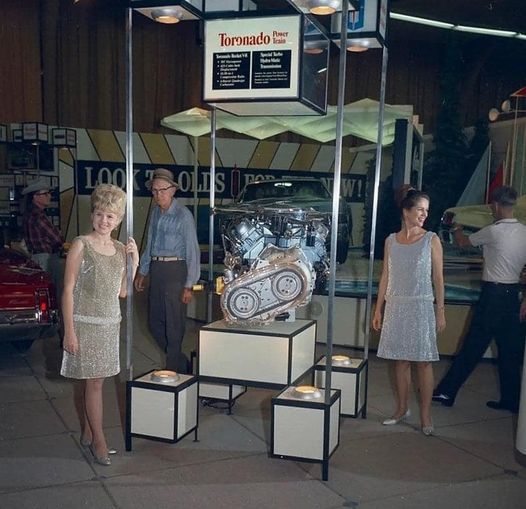 As was usual, Olds was GM's engineering division and were first in delivering tech that would eventually trickle down to the other divisions. With a welcome public reception and proven reliability, the UPP (engine, trans+final drive) was no exception, and appeared in the newly designed Cadillac Eldorado for 1967, using a Cad 429 to power the THM-425 transmission. That doesn't mean Cadillac was simply waiting in the wings, they had been working in parallel with Olds (along with many other GM units), each applying their own expertise to the project to ensure success on their new flagship model. Suffice it to say, the new Eldo was a major hit.
Sidebar: Throughout this site, I use the expression "3rd Gen" rather than "10th Gen" to refer to the '79-'85 Eldorados. Prior to the FWD version, there were years where the Eldo was nothing more than an upscale Deville. And to count the 2-year styling refresh cycles as "generations" is a tad...ambitious.

As the 1960's rolled into the 70's, automotive tastes began to change. Increasing emissions requirements meant a shift from big-block muscle cars to luxury offerings. The 1st Gen Toro had already been heading in that direction practically from the beginning; after the early adopters were satiated in '66, sales dropped nearly 50%. The public was more interested in vinyl tops, full wheel covers and faux woodgrain, and the Olds division was happy to oblige. Still, if you wanted performance, for a mere $47.39, you could order the W34 GT package on a '70 Toro, which got you a 400 horse 455 that featured larger intake valves, lifters, more aggressive cam, dual exhaust and a reworked THM-425.

Toro Trivia: The W34 package was first offered in 1968 at a rather pricey $210.64. Besides the upgraded engine & trans, it was the only year to have a cold air intake plumbed through the (specially stamped) fender. Other under-hood modifications were made to accommodate it, as well as a temp sensor that would force the headlight doors open if the engine needed additional cooling.
Only 124 were ordered. Note air scoop in pic at right.
Now, we've all seen the 2nd gen cars, and it's easy to write them off when you look at a '66. How did we go from the crisp lines of the Eldo and the sporting pretensions of the Toro to these wide, long and low land yachts? As it turned out, the '67 Eldo was a much bigger seller than anticipated. In fact, after Toro sales began to drop, Olds had been playing around with a 4-door version in hopes of recouping investment on the project. Thankfully, that didn't happen as the Cad division made the whole endeavor profitable. So when it was time to pen the '71 redesign, Olds General manager John Beltz recruited designer David North to take inspiration from the 1st gen Eldo. At the same time, Cadillac's entire lineup shifted to a heavier, more substantial design language, Eldo included. In some ways, the Toro resembles an Eldo-lite in profile. But other than sharing a THM-425, each division still maintained independent design authority and the reality is few parts interchange. Personally, I feel that's what makes the competing E-bodies so special, and personally owning one of each, can honestly say they have their own distinctive "driving feel".

| | |
| --- | --- |
| | New 1971 Eldorado Design Language |
By the way, sales of the 2nd gen Toro did skyrocket; it was exactly what the public wanted. The UPP would continue with minor changes through 1978 for both Toro and Eldo, each maintaining a division-exclusive engine, and division-exclusive sheetmetal, interiors, electrical and mechanical systems. And of course, the UPP with Olds engine was the prime mover for the GMC Motorhome.
And before you write-off the '71-'78 cars as uninteresting luxo-mobiles, consider they both delivered some serious tech in a low-key fashion: 4-wheel disc brakes, high mount brake lights, digital spark control (1st automobile with a microprocessor), electronic fuel injection, ACRS (air bag system), transistorized lamp monitoring system, and other goodies we take for granted today.
| | |
| --- | --- |
| Toronado's MISAR Crank-Trigger Ignition Control System | Eldorado's Electronic Multiport Fuel Injection |
Fast forward to 1979, the first year for the gen-3 cars. The downsizing of the B/C cars in MY '77 had been a success, and despite strong sales of the 77/78 E-bodies, they were both long in the tooth and overdue for an update. The redesign shed nearly 1000 pounds and 20" in length, yet provided larger, more useful interior and trunk space than the gen-2 cars. The longitudinal engine layout was kept, though with smaller displacement engines and a physically smaller THM-325 (3-spd) transmission. The Riviera, which was RWD and technically an E-body from inception, joined the FWD Toro and Eldo for '79. If you've wondered why '77/'78 Rivs look like warmed over Lesabre Coupes, it's because they were. Buick needed a stop-gap until the FWD cars were ready.
So what about these '79 E-bodies? My personal opinion, I think GM hit a home-run. Styling was both fresh and classic, all 3 sister cars stand on their own merits and have their defenders. Reliability was excellent (diesel aside). Independent rear suspension and front torsion bar suspension made for a smooth, but responsive ride. Both performance and economy were well above the old models. And styling and interiors improved all the way through '85, though drivetrain options became less than stellar. By the end of MY '85, GM had sold over 1-million of them!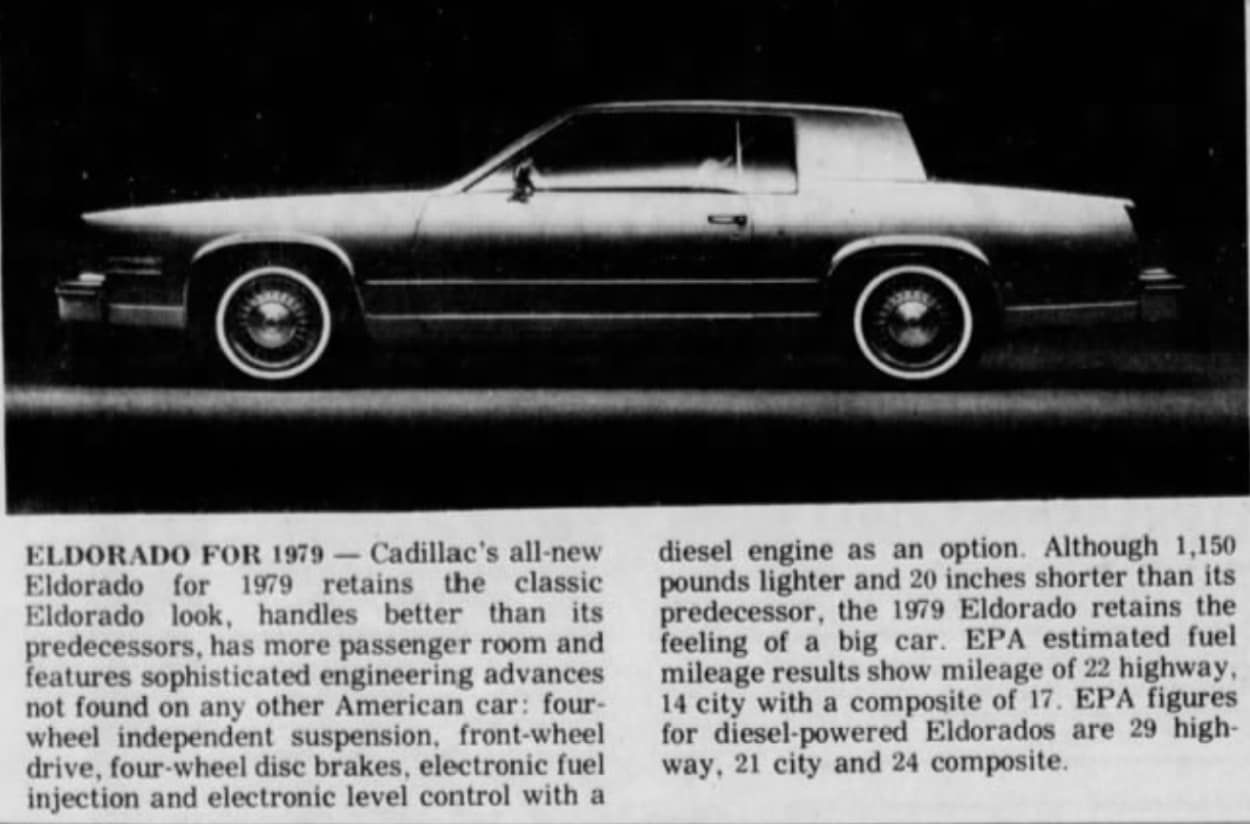 But Cadillac didn't stand still after the '79 release. Each year saw improvements that touched just about every nut and bolt on the car, despite their similar outward appearance. By '85 the cars were quieter, better handling, more comfortable, more rust and corrosion resistant, and the styling accents had been tuned-in. The fly in the ointment was the HT4100 power plant introduced in '82 which had never been intended for these cars. See the Design & Engineering page for more on that.


Since this is Eldocountry and not Toro or Riv-country, my focus is primarily on the Eldorados. This is my attempt to offer something new beyond rehashed Hemmings articles and Facebook misinformation. Just a warning, this website is a work in progress, and leans towards data rather than flash and dazzle. I cannot guarantee absolute accuracy in all cases, relying solely on manuals (sometimes wrong), published lit (occasional errors), and first hand experience (failing memory). But feel free to have a look around as I attempt to document all things "3rd Gen Eldo". Hopefully you learn something new!