The Eldorado Touring Coupe 1982 - 1985


Cadillac faced a rather difficult image problem heading into the 1980's. The Eldorado, having started life as a flagship 'sports convertible' in 1953, eventually ended up as a fancy Deville drop-top by '66. It was re-invigorated in '67 with FWD-tech, aggressive looks, clean lines, and a suspension that traditional Cadillac buyers complained was too stiff, and yet, history repeats itself. It ended the '78 model year as a 5000+ lb land yacht with a soft ride and excess trim. With a fresh-sheet design, the '79 dropped weight, dimensions, chrome, and had looks on par with the '67, especially with vinyl-top delete. But the target demographic was moving towards the sportier German imports. A reasonable offering for Cad buyers who wanted something a little more teutonic? Enter the Eldorado Touring Coupe.
First introduced in 1982, the $1950 Touring Coupe Option was more than just an appearance package. Besides selective body-colored trim, blacked out bumper rub strips and brightwork, ribbed rocker molding, a slick-top and lack of hood ornament, the ETC also featured bucket seats and a console. Steering gear and suspension were upgraded to an FE2 package. Steel wheels with wire caps were out, replaced by cast-aluminum rims, clad in your choice of blackwall or RWL tires in a 225/R70 profile (the same as the 'vette). The downside? This was also the first year of the 125HP HT4100 powerplant. Can't have it all. Or can you?
---
Production Numbers:
| | | | | |
| --- | --- | --- | --- | --- |
| Model Year | 1982 | 1983 | 1984 | 1985 |
| ETC Production | 1700 | 1193 | 815 | 585 |
| Total Eldos | 52,018 | 67,416 | 77,806 | 76,401 |
Despite 1982 having the highest production number for ETC's, the early HT4100 reliability has made them practically non-existent today. You're much more likely to find an '84 or '85 model out in the wild.
---
Color Options:
The 82's are unique in that they were only available in one color combo: Sterling Silver exterior with matching Lt Slate Gray leather interior. Though at least one was done up in sable black, perhaps for marketing purposes (see image below).

1983/84: Sable Black (19) with Dark Beech/Light Saddle pinstriping or Sonora Saddle Firemist (93) complemented by a Dark Beech/Orange pinstripe. These cars have Saddle interiors which border on amber/orange. Pic of '84 "Beech" trunk liner sticker HERE.

1985: Sable Black (19) or Bordeaux Red (79). These have Sandalwood interiors which are a light beige.

FYI...if matching paint, use your SPID paint code. Cad used "Bordeaux Red" in alternate years, and it was actually a different tint.
For all '82-85 ETC's, the lower fluted rocker trim is the same p/n, which is a good thing because parts are very hard to find.
If you really preferred the look of a Biarritz, or even the 4-door Seville, you could order the Touring Suspension package, which got you 90% of the way there. Introduced in '80 as a sport-handling package, it was fairly rare, but later proved popular enough that when I see an 84/85 today, it's a 50/50 shot on whether the buyer ticked the box.
Now, wouldn't it be great if things were that cut-and-dried? But no, cracking open the parts catalog shows there were numerous yearly changes from 82-85, mostly unadvertised.
---
The most obvious are the wheels. Cadillac offered cast aluminum wheels (with lug nut covers) starting on the '79 Eldo, and they're frequently seen on 80+ Sevilles. I had (mistakenly) assumed the 83-85 aluminum wheels were merely a rehash of the Seville cast wheel, but that's not true, there are subtle casting differences. Here's what I've found:

Two "Touring Group" rims (N90) are listed for 1982. One with gray infill paint (3634567), and the other, silver (3634564). I'm assuming silver was paired with the ETC, while the other was optional on the standard Eldo. These wheels have a more square lip on the perimeter, and the center caps are recessed further than the later wheels.
Click Here to see a side-by-side comparison of the '79 rim vs late ETC.
A second design was also offered for 82 for both E & K models (N60 - 1619146). These have a turbine look and were intended for center covers to hide the lug nuts. This is basically a continuation of the '79 style, with a visible casting number and dark paint in the center, which the dress cover is intended to hide.
For 1983/84, a new N90 wheel was offered with three different paint infill options. "Aluminum" for the std Eldo [3634565]. Saddle for the Sonora ETC [3634570], and Black for the Sable ETC [3634572]. The Seville also had a new N90 wheel for 1983, the 3634566. This appears to be 1-year only usage as the 84/85 Sevilles adopted the 'aluminum' 3634465 Eldo wheel.
For 1985 Eldos, the N90 nomenclature became PH3, and the Saddle and Black options were dropped. The 'aluminum' 3634465 rim was the only option for all ETCs. Perhaps commonization was to reduce excess inventory, being the last year of production for both E & K models before the downsizing. Confused yet?
---
Suspension & Chassis:
And when it comes to chassis parts, one might think you could grab parts from a similarly-equipped Seville with Touring Suspension, but you'd be wrong...
For steering boxes, all are 14:1 ratio, but with varying amounts of feedback:

• 1982-85 Eldo Std: 7833142
• 1982-85 Seville Std: 783148
• 1984-85 Eldo Convertible: 7845140
• 1982-85 Eldo/Seville FE2: 7833141

---

Sway bars are another matter. Fronts are easy, and shared by both Eldo and Seville.

• 1982-85 E/K Std: 30mm 561896
• 1982-85 E/K FE2: 32mm 561897
(also Toro with Hvy Duty Suspension)
[84/85 Diesel-equipped Riv/Toro/Eldo are smaller! 561895 28mm]

But rear sway bars get complicated depending on year, suspension pkg and engine option. Here they are listed by diameter:

• 20mm 1614060: 82-84 Seville w/4100
• 22mm 1614062: 82-85 Seville w/DSL, 82-85 Eldo w/4100
• 24mm 1614064: 82-85 Eldo w/DSL , 1982 Seville FE2
(or is it 26mm below? Parts Catalog lists it in this confusing way)
• 26mm 1614066: 82-85 Seville/Eldo FE2 w/4100


---

Torsion bars are another oddity, again depending on engine weight. One year Seville even uses two different diameters, left vs. right. Due to musical chairs, the below is the spring-rate by year for Eldo only.

• 1982/83 Std Suspension has a spring rate of 34.
• 1982 FE2 is 40.
• 1983/84 makes no distinction on std vs FE2 and is 45.
(I assume this carries over to '85).

Then there's the matter of shocks. The originals were tuned to the option package, but about the best you can do today is KYB's for the front, and Monroe air shocks for the rear.
---
Interior:
What really sets the ETC apart from the standard model is the unique bucket seats and console. Try as I might to determine if the console is shared with the Eleganté, the parts catalog is of no use due to some specific Eleganté features, like a rear-mounted courtesy lamp and flip-out writing pad. (Sorry, there's no electrical connection under the carpet on the Eldo). Trying to match up the armrest and lids is also a problem due to the unique color on the ETC. I assume the floor pan contours match the K-body, so compatibility should be quite high. At least some Eleganté consoles appear to use a different latch arrangement.
Incidentally, cracking of the base around the latch/hinges is common, and a trim repair kit was offered. See the TSB Section for details.
---
The seats are another matter. The '82-'84 Cimarron buckets sure look close in pattern, but the pleated leather is perforated on photos I can find. 85+ is a different style. Cimarron power controls are also mounted on the side of the base. ETC buckets use the Biarritz/Seville tri-motor chasis, but with the "large style" 6-pin connector.
---
"ETC #1"
My personal connection to the Touring Coupe model started ~20 years ago when an '85 with a blown 4100 turned up in the classifieds. While I was driving an '85 Biarritz, the ETC checked all the right boxes. The price was right, but the car was 5 hours away, and I had nothing but the seller's word and a B&W postage stamp size picture to go on. Getting it home was a story in itself due to a blizzard, but the important stuff checked out. The interior was pretty mint, the exterior had a good quality repaint at some point, which still looked remarkably good. Aside from some rust starting on the deck lid, and a quarter-sized hole behind the passenger door handle, it seemed like a no-brainer at $500. I replaced the rear bumper, got a full set of matching ETC caps installed, and with a good detailing she presented well. The engine-situation was rectified with a junkyard Olds 403, fitted with a Seville EFI intake and a modified analog ECU. In fact, this ETC was the impetus for the original engine swap guide.
That car ended up a screamer and was loads of fun to toss around in the corners. As a college student, the number of cars that followed me home was getting out of hand and I eventually sold it. What I wouldn't give to find an interior of that condition today!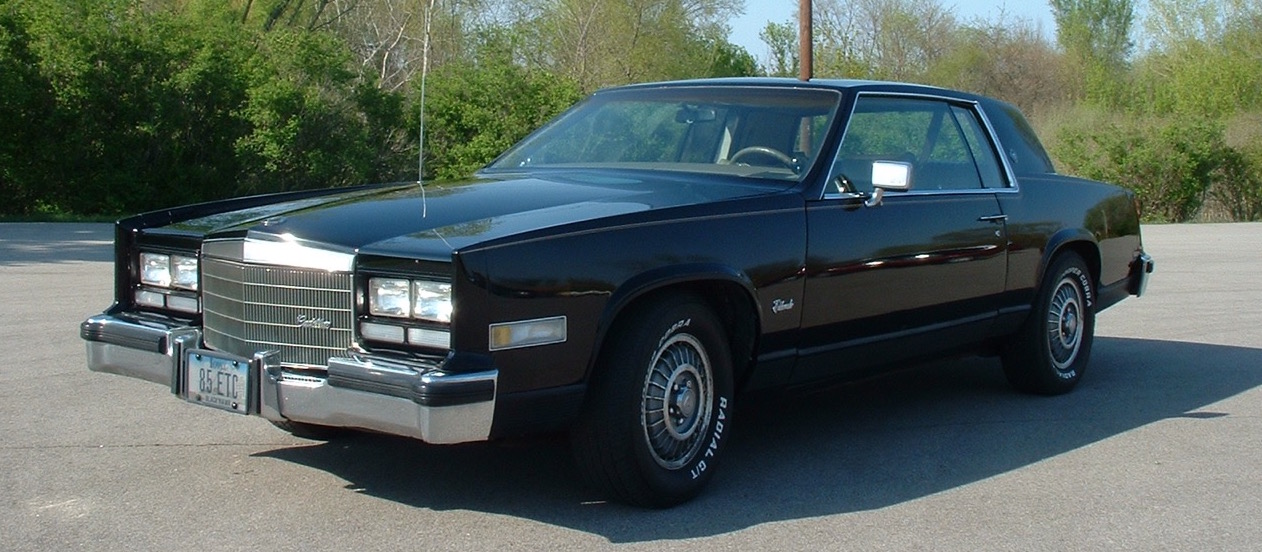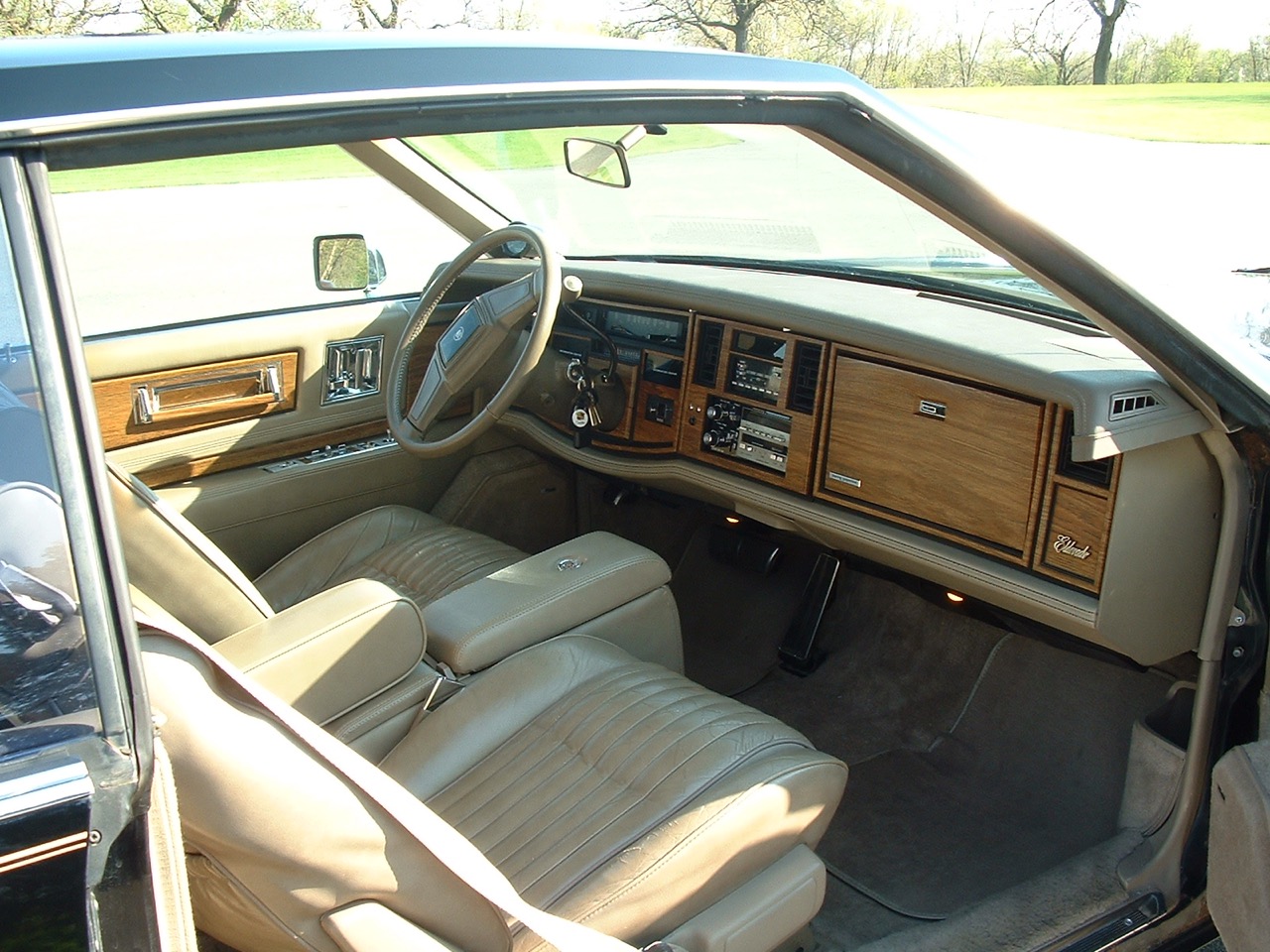 ---
"ETC #2"
A number of years later, I'm cruising Ebay Motors and what do I spot? A bordeaux red '85 in Florida. Advertised in good running condition, I end up bidding and snagging it for a surprisingly reasonable price. Smartly, we trailered it back the 1400 miles though that was one-long-trip. Despite some TLC and preventative maintenance back at the ranch, the trans let go on its first big road trip hours from home, and I stored it until a suitable drivetrain would come along. This would also give me time to find some better interior parts, as the (rather "selective") ebay photos didn't tell the entire story.
Here we are in 2022, and the car is finally getting the attention it deserves, though not for lack of trying. That story is deserving of a page of its own.
---
Potpourri:
ETC lug nuts are also shared with the Riv T-Type rims, but that's it. While certain M12x1.5 generic lugs (non-conical-base) will work, nothing I can find from any of the major vendors looks anything like the original. If you ever spot any when out picking, grab them as they're unique. GM p/n 1616508.
The Penske File:

I'd be remiss if I didn't mention the Eldorado Penske / RS, a performance take on the base slick top Eldo, and progenitor of the ETC to come. In no way sanctioned by GM, it was offered 1980-85 by Roger Penske. This modified Eldo featured a mix of aftermarket and select GM parts, including interior console. I've found little on the 'net about it, but assume it used the FE2 Sport Suspension that predates the ETC. Trim (including aftermarket grille) is blacked out, but the spoke wheels seem just a bit out of place.
One might wonder why the amber/red export taillamps weren't used on the ETC model as they were on the 1990+ re-intro. In truth, the export lamps lack the integrated side-markers of the SAE version, so an additional part would have needed to be developed (and homologated for legal US road use). Yet under the "Appearance & Protection" section of standard features in the '84 Cad brochure, it calls out ETC-specific taillight lenses. The parts catalog disagrees.

Food for thought.

Trivia: What can you NOT order on an ETC? A diesel, door-edge guards, opera lamps, power recliners, wire caps, vinyl top, or 2-tone paint.
---
In retrospect, the '79 Eldo offered a pretty decent starting point for a driver-oriented car. 4-wheel disc brakes, independent suspension, light weight aluminum rims and the Olds 350, all in a 3800 lb package. It's just a shame that the finished concept didn't materialize until the HT4100 era. For '86, the Eldo had a new problem: Not luxurious enough, at least in appearance. If you want to see a real oddity ('86/87 Eldo with RHD, export tail lamps, and the 'almost never seen' Touring Suspension), Click Here.
A true ETC package would re-appear down the road, but not until the 1990 model year.