Options & Specifications Eldorado 1979-1985
17-Digit VIN Decoder 1981-1985

---

Includes Code 9 for the 368, N for Diesel and 4 for the Buick V6.

Click for Larger View

13-Digit VIN Decoder 1979-1980

---

Includes Code 9 for the 368, 4 for the Buick V6, N for Diesel and 8 for the Olds EFI 350.

Click for Larger View
RPO CODES (Regular Production Option)
Just like other GM divisions, Cadillac shared corporate RPO codes for most of their options. And like the others, codes could change year-to-year for the same option. Should I ever get the time and inclination to pick up an 80's Option Price List off ebay, I'll post the more interesting options here.
Should you be curious in decoding your existing codes, check out the AC Delco Master PDF (412 pages) HERE.
And apparently I saved these RPO code lists to my harddrive 18 years ago.....Warning, they're dated 1976 but there's a lot of carryover here.

For the fun of it, a smattering of '79-'85 window stickers and invoices......
DRIVETRAIN OPTIONS [ALL YEARS]
HP Ratings are SAE Net. 1979-1981 are equipped with the THM-325 (3-speed) transmission [M32]. 1982-1985 are equipped with the 325-4L [M57] as standard (4-speed with overdrive and electrically controlled lockup converter). I have seen references on the 'net that the V6 used the 4-speed in '81, but the parts catalog is suspiciously quiet on that.
Do note that depending on year and engine, internal switches, stall-rating and trans wiring vary.
THM-325 [M32] Gear Ratios:
2.74 1st Gear
1.57 2nd Gear
1.00 3rd Gear
2.07:1 Reverse

THM-325-4L [M57] Gear Ratios:
2.74:1 1st gear
1.57:1 2nd gear
1.00:1 3rd gear
0.667:1 4th gear
2.07:1 Reverse

See the Tech Info page for Final Drive Ratios
1979:
1. Oldsmobile 350 CID w/ Analog Fuel Injection: Rated 170 HP @ 4200 RPM, 269 lb-ft of torque @ 2000 RPM. [VIN B / L49]

2. CA-Spec: Oldsmobile 350 CID w/ Analog Fuel Injection (Closed-Loop): Rated 160 HP @ 4400 RPM, 265 lb-ft of torque @ 1600 RPM. [VIN B / L49]

3. Oldsmobile 350 Diesel Rated: 125HP @ 3600 RPM, 225 lb-ft of torque @ 1600 RPM. [VIN N / LF9]



1980: Note: the 350 diesel loses 20 HP & 20 lb-ft of torque.
1. Cadillac 368 CID w/Digital Fuel Injection: 145 HP @ 3600 RPM, 270 lb-ft of torque @ 2000 RPM. [VIN 9 / L62]

2. CA-Spec: Oldsmobile 350 CID w/ Analog Fuel Injection (Closed-Loop): Rated 160 HP @ 4400 RPM, 265 lb-ft of torque @ 1600 RPM. [VIN B / L49]

3. Oldsmobile 350 Diesel Rated: 105HP @ 3200 RPM, 205 lb-ft of torque @ 1600 RPM. [VIN N / LF9]



1981
1. Buick 4.1L V6: Rated 125 HP @ 3800 RPM, 210 lb-ft of torque @ 2000 RPM. [VIN 4 / LC4]

2. Cadillac 368 CID V-8-6-4 w/Digital Fuel Injection: 140 HP @ 3800 RPM, 265 lb-ft of torque @ 1400 RPM. [VIN 9 / L62]

3. Oldsmobile 350 Diesel Rated: 105HP @ 3200 RPM, 205 lb-ft of torque @ 1600 RPM.

[VIN N / LF9]
1982 Note: The Diesels are still chugging along. And no, they're not merely modified gas 350's.
1.

Buick 4.1L V6: Rated 125 HP @ 3800 RPM, 210 lb-ft of torque @ 2000 RPM. [VIN 4 / LC4]

2. HT4100 V8 (4.1L) w/ DEFI: Rated 125 HP @ 4200, 190 lb-ft of torque@ 2000 RPM. [VIN 8 / LT8]

3. Oldsmobile 350 Diesel Rated: 105HP @ 3200 RPM, 205 lb-ft of torque @ 1600 RPM. [VIN N / LF9]



1983-1985 Note: Parts Catalog states the 4.1 V6 was still available in '83, but I don't believe it. The HT4100 gets a power bump.
1. HT4100 V8 (4.1L) w/ DEFI: Rated 135 HP @ 4200, 200 lb-ft of torque@ 2000 RPM. [VIN 8 / LT8]

2. Oldsmobile 350 Diesel Rated: 105HP @ 3200 RPM, 205 lb-ft of torque @ 1600 RPM. [VIN N / LF9]

Note: Fuel Tank Capacity varies with engine option. See directly below for details.
1982 SPECIFICATIONS
(1982 Pricing)
4.1 liter V-6 engine ($165 credit on Eldorado) - Introduced in '81 with 325-4L.

5.7 liter diesel V-8 engine ($179-$351)

Altitude emissions pkg.: diesel or 4.1 V-8 (NC)

Engine block heater: ($26)

100-amp alternator ($48)

FE2 Touring Suspension: ($109)
Transmission: Four-speed overdrive automatic (THM325-4L)

Standard final drive ratio: 3.15:1 except diesel, 2.93:1

Steering: recirculating ball; power assist

Front suspension: torsion bar and link stabilizer bar (spring rates vary by drivetrain and year)

Rear suspension: independent trailing arm, coil springs, electronic level control

Brakes: four-wheel disc

Fuel tank: 20.3 gal. exc. 22.8 w/diesel, 21.1 w/V-6
OPTION PACKAGES (1982 Pricing)
CONVENIENCE / APPEARANCE OPTIONS (1982 Pricing)
Astroroof ($1195)

Electronic cruise control ($175)

Rear defogger w/heated outside mirrors ($150-$198)

Automatic door locks ($145)

Remote-locking fuel filler door ($56)

Garage door opener ($140)

Illuminated entry system ($76)

Digital instrument cluster: ($229)

Dual Comfort front seats w/six-way power passenger seat adjuster ($413)

Memory driver's seat ($180)

Six-way power passenger seat: ($197)

Power passenger seat recliner w/six-way power seat: ($347)

Leather-trimmed steering wheel rim ($95)

Tilt/telescope steering wheel ($169)

Theft deterrent system ($179)

Guidematic headlamp control ($93)

Opera lamps ($85)

Trumpet horn ($35)

Electric remote-control outside mirrors ($98)

Twin lighted vanity mirrors ($136)

Electronic-tuning seek/scan AM/FM stereo radio with 8-track tape player ($225)

Electronic-tuning seek/scan AM/FM stereo radio with 8-track and CB ($515)

Electronic-tuning seek/scan AM/FM stereo radio with cassette and symphony sound system ($290)

Tri-band antenna ($45)

Two-tone paint: ($335)

Partial firemist paint ($450)

Firemist paint ($229)

Bodyside molding ($61)

Door edge guards ($18-$27)

License frame ($13)

Leather seating area ($498-$680)

Carpeted rubber floor mats: front ($41-$43)

Carpeted rubber floor mats: rear ($24)

Trunk mat ($20)

Aluminum wheels: ($429)

Wire wheel covers ($298-$375)

Puncture-sealing tires ($130-$175)
FULL-LINE BROCHURES 1980-1983
While you don't see many of them now, a standard "wheel disc" was offered for all years of production on the base Eldo. '79 seems to have been the most popular before the release of the alloy wheel option. 1980-85 shown at right. Click for 1979 version.

The popular wire spoke wheel covers were revised for '81 on Eldo to reduce the offset by over an inch, and the locking bolt is behind the center medalion rather than visible about the perimeter.

For aluminum options, see the ETC wheel section.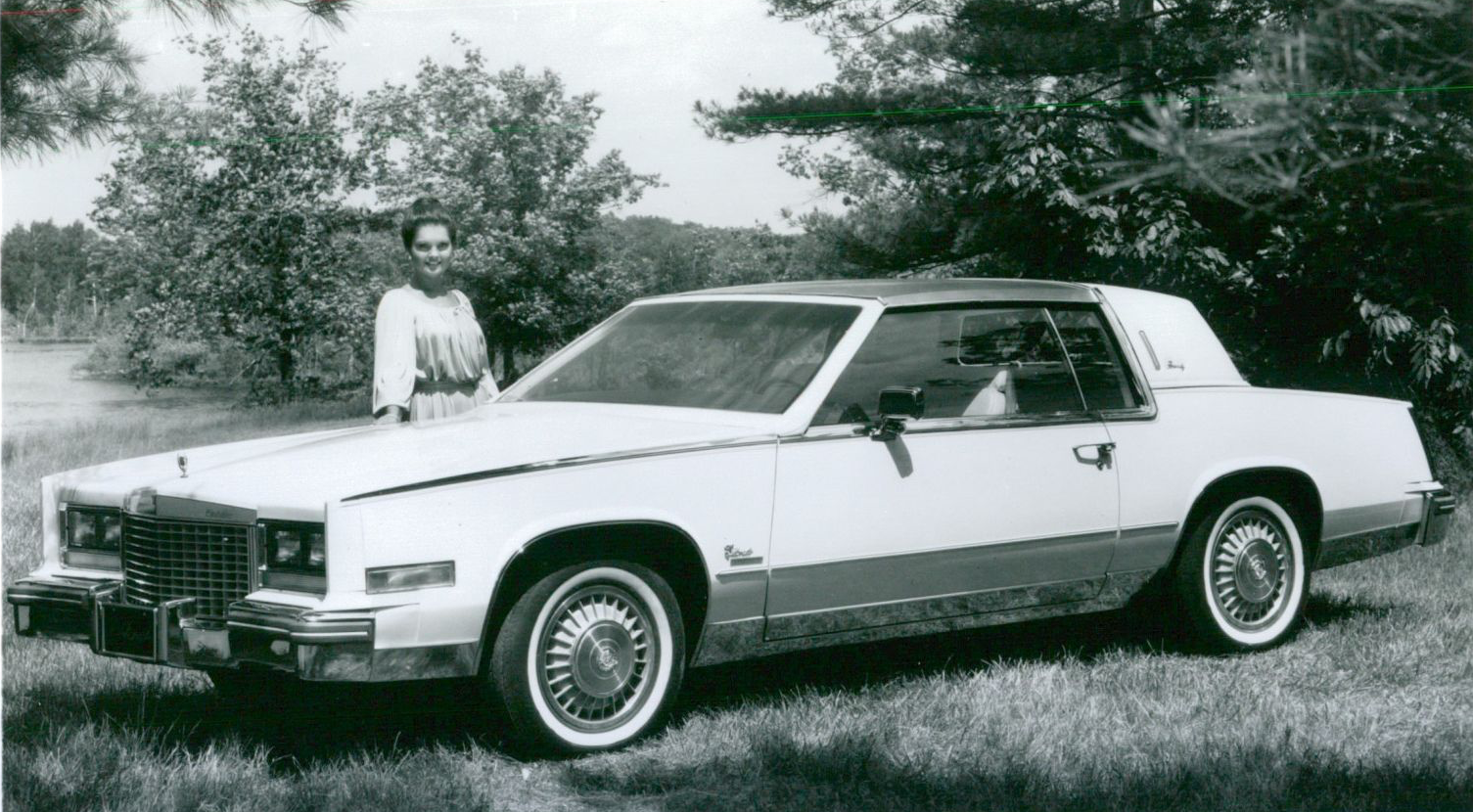 The Biarritz package, introduced as an appearance upgrade in 1976, turned the volume to "11" in 1977 with super-luxo seats, padded quarter roof with 'frenched-in' rear window, and stainless upper body trim that started at the coffin-nose hood and wrapped around the greenhouse in a bold style. For the new '79 model, the package was refined into something a little more classy, and remained pretty much unchanged through '85.
This $3k+ package got you a stainless steel roof cap, chrome fender spears matching unique wider door and quarter window trim, wrapping up and over the roof in a band at the leading edge of a padded cabriolet vinyl top, which also featured fiber-optic coach lights. Inside, you got exclusive button-tufted seats, Tangier carpeting (later Tampico), and rear passenger reading lights. Starting in '80, this also included new, quieter power seats (which means seat controls and wiring are also Biarritz-specific).
An Astroroof, Touring Suspension, and aluminum alloy wheels could be added at extra cost, but the vinyl top could not be deleted. Unique Biarritz emblems complete the package.
Here's an excerpt from the '84 Sales Guide: "The 1984 Eldorado Biarritz will be offered in all available exterior colors, vinyl roof colors and accent stripe colors with seven select leather interior trims. These four features may be ordered in any combination the customer wishes to create the Biarritz color combination desired. If a non-compatible color combination is ordered, it will require a color compatibility Edit Override (Option Code D60) when ordered."
Consider...Besides the myriad color-keyed interior trim and upholstery the factory had to keep on hand for the regular Eldo, the frenched rear window meant a different parcel shelf, different garnish moulding, as well as unique retaining clips were required for Biarritz. In "all of the colors". The carpeted trash receptacle also had to be duplicated for each color because of the applied Tangier carpeting. I'm pretty sure that also goes for kick panels and lower door panels, too.
It's not unusual to see an Astroroof on a 3rd gen Eldo, especially paired with a pricey Biarritz, but did you know the glass panels were actually color matched to complement the body color?

1979 cars had Gold or Silver available, which expanded to include Rose, Bronze, Green, Neutral and Gray for 1980/81. That's right...7 different colors.

For 1982-85, the list was reduced to just 3: Gold, Gray & Bronze.

But what about sunroofs? It turns out the old style solid panel sunroof was actually available for the 1979 model year. If you have a photo of one, drop me a line.
Was the '81 Eldo "Bomb-Proof?
Power Mirrors: Cable-operated mirrors were standard on all '79-85 Eldos, but you could upgrade to motorized units, which were new across the board for Cadillac in 1979. Instead of a single joystick control with L/R switch like the Riv, the Eldo maintained two separate joysticks. Connectors on these do vary depending on year. If equipped, the mirror glass itself is etched "Power Control"

Advantages of power mirrors were two-fold. The old cable style tended to move around a bit when closing doors as the cables got 'pre-loaded' after adjusting. The other advantage was more precise movement; you didn't have to overcome cable stiction to get the glass moving.

Neither here nor there, the "joystick" shape for both versions did change from a '70's style that resembles a door lock pull to a smaller control. I suspect this was a running change sometime in '80/'81.

Heated Mirrors were new for 1980, and came standard when the rear window defrost option was ordered. Available with or without Power Control.

A Memory Power Seat (driver side) was introduced for 1981, the first car to offer such a feature since the 1958 Eldorado Brougham. These cars have unique wiring, switch modules and a controller.

Morty Seinfeld: Jerry, look at this. My seat's got a memory, in case somebody moves it. I could be in prison for five years. I come out, my seat goes right back to where I like it.

Auto-Dimming Interior Rear-View Mirror: Made by Gentex, and first used by Ford in 1983, this motorized unit was available for Toronado in 1984, and expanded to Cadillac in 1985. A sensor facing the windshield detects when it's dark enough out to operate, and a sensor facing the rear of the vehicle responds to headlights from behind. A dial allows you to adjust the sensitivity. When you shift into Reverse, the unit automatically flips to the normal position. Wiring content for this mirror is not in the base harness, though to add it, all you really need is switched 12V. You can pick up ground at the map light assembly. For repair, See Here.

Remote Locking Fuel Filler Door: New for 1982, this was a cable actuated lock tucked into the left rear of the trunk lining that secured the flip-down license plate when the power locks were actuated. A manually operated lever within the trunk allows mechanical bypass.

As a reminder to the owner, and a warning to thieves, a unique decal replaced the "Unleaded (or Diesel) Fuel Only" sticker. An '82 at a local U-Pull-It yard I spotted recently still had this sticker intact, though I neglected to snap a photo. Most disappear during repaints, filler replacement or general wear.

Auto-Locking Doors: Available on all 1979-85 models, the doors automatically lock when shifted into Drive. Either door will then re-lock if unlocked to exit. Starting in 1980, the driver's door specifically unlocks (rather than both) when shifted into Park. Lock pulls (as shown at right) were also updated in '80 to be more 'theft resistant'.

The Eldo system is more complicated than it needs to be, utilizing a waffle-type driver seat switch, and automatically unlocking if shifted into Park, Reverse or Neutral. A logic module and permanent-magnet motor/relay combo mounted behind the glovebox handle the work.

Curiously, Buick also offered this system on the Riv, but did it in a completely different way (and without a seat switch). The Buick system also unlocks both doors when the driver door is unlocked with the key.

Theft Deterrent System:

Also offered previous years, this system is armed via the power lock switch and disarmed with the door key. A module monitors both doors, trunk and hood, as well as door lock plungers for change-of-state. Starting in 1980, a starter solenoid lock-out relay was added that prevents engine starting, even if the system is breached.

Illuminated Entry: Popular for years on Cadillac, this sytem was offered on Toro, Riv and Eldo in '79+. A push of the door lock button lights up the interior for 30 seconds, along with the key cyclinders via a fiber optic lead. For Eldo and Toro, the light source was the courtesy lamp in the door itself. The Toro routes the fiber optic to the body where a light bulb source behind the kick panels illuminate the lead. Switching the key to On cancels illumination.

Unlike the 70's Cads that focus light onto the cylinder from above, the ring around the cylinder glows instead. G-body version at right.